If you have spent any time at Fly Fishing the Ozarks I'm sure you have come across a photo of somone wearing a cool looking "facemask" well, those facemasks are called BUFFs (as seen by the Fly Fishing the Ozarks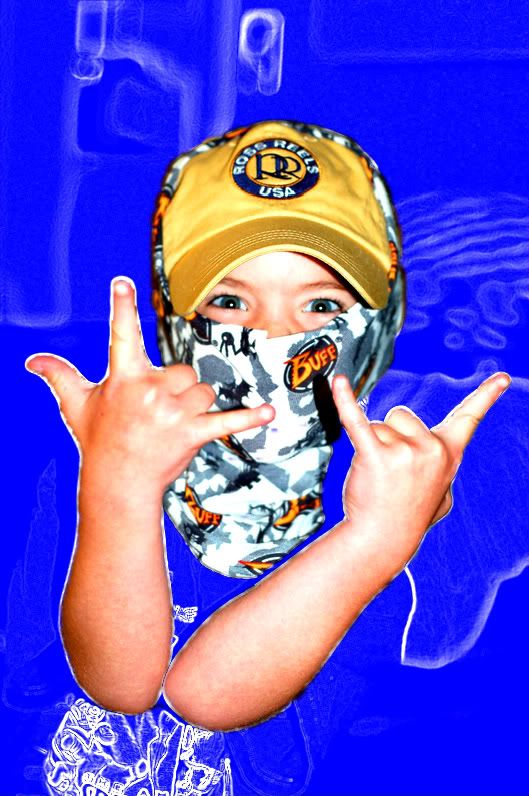 Gangstas.)  I get a lot of questions about these things so I thought I would give a little more details. 
From Buff's Site:
"Buff® is the brand of an innovative, useful, comfortable, fun, multi-functional garment that will keep off the sun, wind or cold.. The brand's success consists of having created a product that didn't exist before 1992, which meets a significant need among sportspeople and outdoor activity practitioners who are seeking functionality, quality and design.
Original because it was and continues to be the first worldwide brand to create the first seamless, multi-purpose, tubular headgear.
Functional because it can be worn in loads of different ways: as a scarf, cap, headscarf, facemask, balaclava, headband, wristband... and as many other ways as you can think up. A versatile article that can be worn more than twelve different ways, used to practice any sport including cycling, skiing, playing tennis, running, going by motorbike, even as a daily clothing accessory.

"
Starting in 2008 BUFF introduced a line of Angler BUFFS that are seriously cool, UV Blocking, sweat wicking, neck warming, turbo awesomeness!  They even upped the ante late 2008 by sponsoring the Save Wild Steelhead Festival...giving back to a sport that they quite literally just jumped into not long before.  In 2008 they dropped some really cool prints that mostly targeted saltwater fisherman--tarpon, dorado, and bone fish.                   
January 2009 brought a completely different line of BUFFS targeting the cold and warm water fisheries with Rainbow Trout, Brown Trout, Largemouth Bas
s, and Striper prints.  ON TOP OF THAT they are making a Cyclone Buff out of the striper and largmouth prints.  The Cyclone Buffs are pretty much half regular BUFF and half Gore-Tex Windstopper...for those cold days.  And, can I say it again....ON TOP OF THAT, they decide to make a line of Insect Shield Buffs that keep the bugs away.  All of the new Buffs have Polygiene odor control technology that keeps the stink away.
I couldn't be more excited about the Striper-style Cyclone Buffs.....and have ordered one already--with Cyclone Buff on the way this late in the winter, I wish the cold weather could last a little longer!
 To check out the full line of Angler Buffs click here also check out the rest of the adult, kids, and baby Buffs as well.  You can even buy the Buff worn by those crazy reality television fame-chasing Survivor contestants!