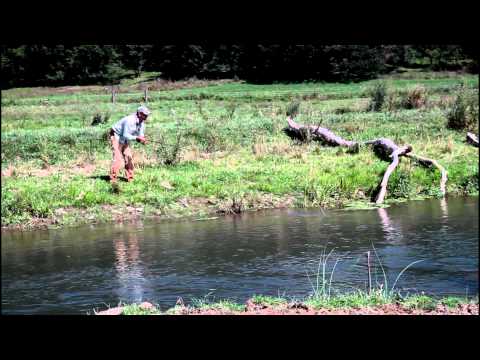 The Driftless.
In the beginning. Three fishermen go on an adventure, a long way from their familiar
waters, the Ozarks. The first stop..... The Driftless Region, Wisconsin. Similar to the slopes of home, any Ozarker wouldn't be able to tell the two apart once fog crept through the valleys and the sky went grey to blue in the dusk.
The bottom of the hills similar limestone bluffs rose above the stream valley and the streams were cool and clear like the Ozarks but these streams had more sediment, there was no clean gravel but black glaciated soils from the crop laden hills above. This is where the journey begins….
Just as we arrive in camp, aka dairy cattle pasture laden with cow pies and flies but at $10 a night for all of us and the land-owner bringing us fire wood every evening how could we say no.  Our good friends from Chicago Land are stumbling out of their tents as we stumble from the truck after driving all night. Like true fish heads they stagger first to their fly rods and make a few casts before the morning coffee.
We catch up quickly on times past as we rig fly rods. Tying 6x tippet has been easier to tie, no sleep for 24hrs is catching up as the sun rises through the fog on us. (by day 7 tying knots is worst though)

Blue River is our first stop after legalizing ourselves to the Wisconsin wardens. Beer cheese curds and sausage sticks are for lunch this day and for the next week. Yes, fishing is more important than eating. Anyway. We all split up to fish alone, reconnect with the water and reflect what is on our heart at the time.
By noon some have passed out in the field along the river and others are catching the biggest trout of their life in these waters. After depleting beer supplies we head back to camp to recharge and get ready for the evening round of fishing.

This is when sky opened up. We hid under a small tarp and told tales of big fish.
Soon the sun came back and we headed back to the river. We claimed an awesome stretch of river on the Blue. It had a magnificent prairie with flowers and grasses over 6' tall (You probably wonder how Brian made it through this), well luckily our friends from Chicago are 6'8'' or better and we just followed them to the water.
The cameras could not do justice to the sunset, the fog, and the setting we fished in but the smiles and laughter of good friends described it all.
Night fell and the campfire called us home. We cooked and reminisced of past adventures together and planned the new ones. Soon we were to turn the page to the next adventure. Musky Country. The Muskyteers hit the last of the Driftless that morning and headed North, toward toothy critters….
Report by Kyle Kosovich
Photos by Aaron Scott & Kyle Kosovich