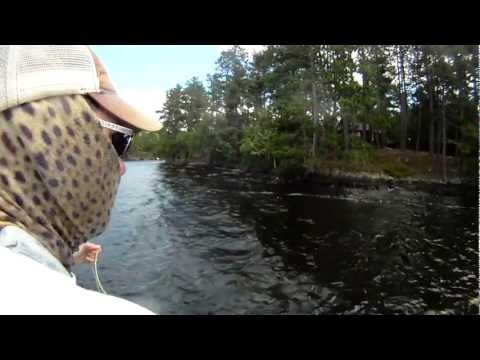 Lake Ver' making a Million Casts.
Thinking back on Lake Vermillion... Musky fishing can be equated with an adventure race. In a race there are parts where the course is smooth and comfortable. Then, there are places that hurt! Both happened on Lake V.
For the first two days it was up hill but smooth. We were casting,enjoying the new sites sounds, and smells of the North Woods, it was great. It was amazing to watch the sky full of the mountainous clouds billowing and grand. The loons
called lazily over the north woods water and there were dozens of bald eagles. North woods eagles were like buzzards in Ozark County, everywhere.
Yet by day three the hurt broke the surface. Brian manages to impale a giant purple popper in his shoulder. We all know Brian can cast 107' feet like he was brushing his hair, but this cast made me cringe as a gust of wind crumpled it.
THHWAAACK!
Have you ever taken a 2/0 hook sunk to the bend in yourfriend's shoulder?
We managed to remove it and what did we do, kept casting.
Thoughts of "Why are we still here?" "God, if I just catchone I'll end my musky career right now", "This is starting to get ridiculous"Thoughts that never cross a fly fishing guide's mind begin to take over. Soonyou cast out of desperation to catch THAT fish, knowing that, the next castwill be "the one".
And it is! The next cast that you place right in the meatslot, watch it hang slowly, thinking "that is the one". Then you notice castingslack is in the trolling motor right as big head comes out from under the logand chews your fly like laffy taffy. While your falling out of the boat to setthe hook… That is when IT happens… THAT is when your chance comes, and goes,like THAT!
 The high that comes with musky fishing is also in similarityto a race finish. The adrenaline of hooking a fish as long as your leg matchesand perhaps surpasses that jolt of knee buckling energy that hits at the finishline of a long and exciting race.
That's on your next cast though. Not this one. Try again…
Fish are the excuse to adventure into the wilderness, butthey end up only a sliver of the story. We gain much more than a "grip andgrin" when we set out with friends into unimaginable adventures.

There is nothing in this world with as much value as good friends.