I have to be the first to admit....I had no idea what I was getting into when I started doing these tying videos.  I thought they were fun and a good way to keep content rolling, but it turns out one or two people have really, really liked them.  To be exact, in less than a year--over 30,000 people have liked them (well maybe not "liked" them but "watched" them.)  The vast majority of the videos have been following the Galloup line of streamers, and the video in this post will be the last one..........of the  Galloup line.
The latest video is Galloup's Articulated Boogie Man.  In all honesty, out of all of his flies this one just has a mean look to it--like it would jump out of your Meatlocker and punch you in the face.  Kind of a cross between a Sex Dungeon, Zoo Cougar, and a Heifer Groomer this thing needs to be in every streamer freaks box, for sure.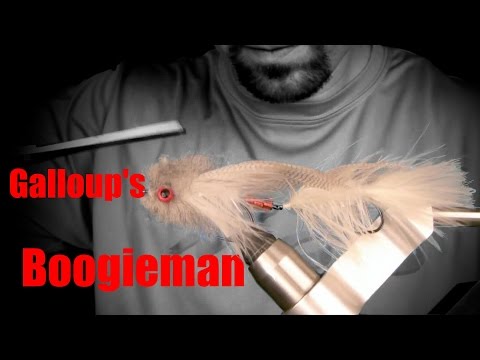 Recipe:
Rear Hook:
Hook - Gamakatsu B10s #2
Tail - Marabou
Body - Estaz
Hackle - Schlappen
Wing - Mallard
Connection Point - Beadalon
Front Hook:
Hook - Gamakatsu B10s #1
Eyes - Lead
Body - Estaz
Hackle - Schlappen
Head - Wool
So the Galloup line of streamers is done.  But, you see, I am one completely streamer obsessed fool so I will be jumping straight to Mike Schmidt's crazy-awesome streamers next.  With flies like the Double Deceiver, Mufasa, Meal Ticket, Stinky Mayo, and the like---stick around, we are just getting started!!  And as always, the recipes to the flies all have links built in for all (or most) of the materials, so all you have to do is click and buy.  Word.