Ending the Galloup line of streamers was a little bittersweet.  It was really cool doing all of those videos from someone that I admire so much and actually getting feedback from him.  But that is all in the past and we are moving forward with these crazy videos.
About halfway through the Galloup videos I knew the next step would be to jump straight to Mike Schmidt's absolutely awesome flies.  I had been tying the Double Deceiver for a couple of months and had a solid chance to fish it (and tweak it a little for the North Fork of the White River) and it is so much fun to watch in the water.  Ripping this thing away from the bank on the bow of a drift boat is haunting because, to be quite frank, you are just WAITING for a 70" brown to eat it--and then eat your boat.
Without further ado, the first fly in the Fly Fishing the Ozarks Mike Schmidt series of flies....the Double Deceiver.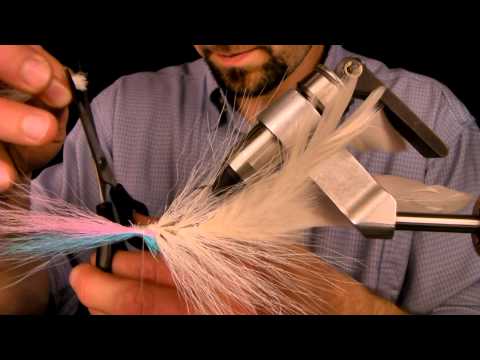 Recipe:
Rear Hook:
Hook - Gamakatsu B10s #2
Tail - Schlappen
Body - Bucktail
Connection Point - Beadalon
Front Hook: Hook - Gamakatsu B10s #1
Tail - Schlappen (optional)
Body - Bucktail
Eyes - Mirage Domed
Head - Clear Cure Goo
To see more flies from Mike Schmidt check out www.anglerschoiceflies.com.  Next up....Mike's Meal Ticket!