Next up in the Mike Schmidt Streamer Series is the Voodoo Squatch.  I haven't fished this fly a ton yet but as soon as it gets wet there is one thing that is undeniable.....MOVEMENT.  A lot of Mikes patterns gain movement from a large head and a smaller back hook with light materials--which is genius.  The Voodoo Squatch is seriously one of the easiest flies to tie, and a ton of fun to tie and fish.
(Tyers note: I ran out of the back hook that Mike uses so I replaced his Diiachi 2141 with the standby Gamakatsu B10s)
The Voodoo Squatch.....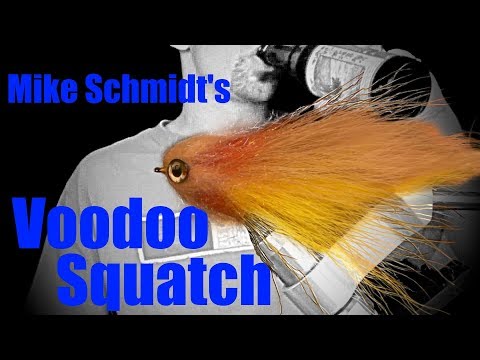 Recipe:
Back Hook Hook: Daiichi 2141 #1  (I was out of this hook so I replaced it with a #2 Gamakatsu B10s)
Tail: Palmered Marabou
Flash: Flashabou
Wing: Marabou
Bottom Wing: Marabou
Connection Point: Beadalon
Front Hook
Hook:  Gamakatsu B10s #1
Tail: Marabou (top and bottom)
Flash:  Flashabou
Wing:  Bucktail (Reverse Tied)
Head:  Lazer Dub
Eyes: Clear Cure Eyes