What started with the Kelly Galloup line of streamer videos quickly morphed into the current series....Mike Schmidt's awesome stuff.  Sadly, all good things come to an end and this is the last fly in the Mike Schmidt series of flies (or at least until he comes up with something else which I am sure will happen at some point.)
I do have to apologize, this is NOT an articulated fly......but it is around 8" long and tied on an 8/0 Saltwater hook so needless to say it is pretty awesome.
Mike Schmidt's "Reaper"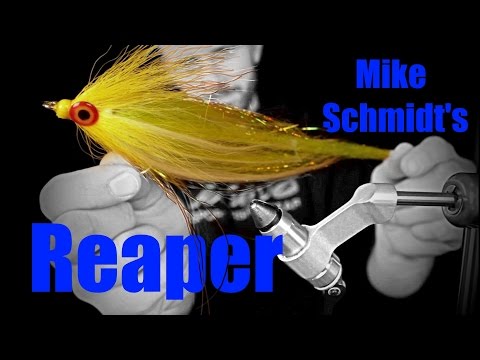 Recipe:
Hook - Gamakatsu SL12 8/0
Tail - Flash Blend
Flash -  Holographic Flashabou
Tail 2 - Icelandic Sheep
Flash - Flashabou
Head - Bucktail
Eyes - Clear Cure Eyes
Top it all off with Clear Cure Goo.....